This is a real game changer. You'll learn how to:

Stand out.
Earn credibility and influence.
Be found and be hired.
Build skills and relevance for a digital age where organisations are looking for digital leaders.
We introduced this service to better serve our clients seeking leadership positions in today's digital age, and have partnered with Jim Claussen, Founder of the Executive Social Academy, to offer you this exclusive career coaching programme.
This executive career coaching innovation has been designed from the ground up to help you differentiate yourself from the competition in your executive job search, but not only that – to then take that digital/social knowledge forward into your next leadership position and continue to grow your 'social' profile and presence as a company leader.
For Gold and Platinum level clients we are including:
Full 'Be Found' Programme – Getting Recruited in the Hidden Executive Job Market
Unique to Executive Connexions, from years of consulting practice, guided by powerful analytics insight.
A concise programme, tailored for busy executive schedules, to build your digital brand, credibility and influence in today's digital marketplace.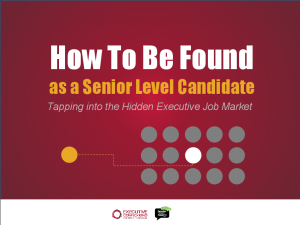 Stand out, be recruited and future proof your career. The Programme includes:
Be Found: The Concise Guide for Executives
Be Found 1:1 Strategy Consult
Be Found Personal Branding Process
Be Found 48-Day Jump Start Action Guide
48-Day Habit Coach Support
Why is there a need for a programme of this type in a job search context?
The days of job postings, applicants applying and organisations hoping the right talent will connect with them are over.
Over 70% of all executive positions are now unlisted (the Hidden Jobs Market). Today, recruiters are using analytics, sophisticated search tools and social networks to proactively find and evaluate specific candidates for specific roles. This presents a tremendous opportunity for leaders to not just find a new placement, but find their best placement, by actively demonstrating their thought leadership and capabilities via their social and digital activities, and you can start to do this now.
This is what our 'Be Found' approach is all about. Make no mistake, this is a paradigm shift in career management: what senior level job candidates do in social/digital will bring opportunities, particularly the hidden job opportunities, to you. This is about establishing your visible credibility, being found, and being recruited; think of it as 'pulling' opportunities to you vs. 'pushing' for the advertised roles that most other candidates will be chasing after.
To demonstrate how being prepared and in touch with the market is, our independent research showed a disconnect between recruiters' and senior candidates' perceptions of how well prepared they were. It also appears that there is a blind spot with many executives around embracing – truly embracing vs. dabbling – social & digital as job search strategies.
We want to help you position yourself as a visible, credible candidate, to rise above the competition and demonstrate your leadership through social, rather than focusing on the advertised jobs market – the frustration around which is all too evident from the many conversations we have with candidates.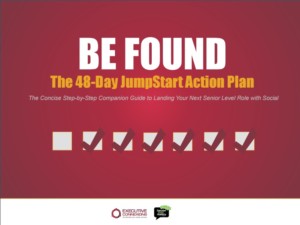 How will this help you in your job search?
You will get concise step-by-step guidance. 
We realise this will involve a learning curve and a mind-set shift for many people, so this program will give you practical steps and support you to learn and maintain a strong social presence. You'll find out how to use social media platforms, why publishing is so powerful, how to be found, and more, including daily reminders with actions for you to maintain the social momentum you'll discover here. The shorter term aim is to help you land your next senior level role, faster.
What our clients say about the service:
'Wanted to drop you a short note of thanks for the insight and tips that have enabled me to formulate a more structured and disciplined approach to my on-line / social media activities. It has built confidence and made me a more all-round and at the same time discerning consumer and contributor. I also think that my channel selection and usage has become more effective'.

– Wayne Thomas, Supply Chain & Operations Executive.

Just wanted to drop you a note to thank you for the daily updates. I have found the updates extremely useful and I'm already starting to increase my social presence – in fact I have a live opportunity as a result. I'll endeavour to continue the program on an ongoing basis!

– Alan – Senior Finance Executive.
Next Steps
We invite you to explore your career plans with us, as well as the Be Found elements of our programme in a confidential call with our MD Steve Nicholls.
Value-led, this complimentary & confidential discussion will help you to better understand the need for this new approach in today's recruitment market, and you'll also get some answers to any burning questions you may have about your career and job search strategy.
Book your complimentary career strategy call
Jim Claussen, our specialist social media coach, covers some of the key factors behind our Be Found programme in the four videos below: