Why then do most senior level candidates seem perfectly happy to focus on applying for advertised roles (where the competition is fierce, not to mention if the role is actually a 'real' one), rather than exploring the biggest slice of the cake, the Hidden Jobs Market?
Want to land your next role faster? Don't follow the herd…
We're big advocates of using social media to leverage the Hidden Jobs Market to your advantage. With simple and practical methods within LinkedIn, you can position yourself as an authority / leader within your field, getting noticed more often and to driving traffic to your profile page. The side effect is that your personal brand will be enhanced; just ensure your profile states clearly your brand and aspirations, unless you're undertaking a discrete search; even then your LinkedIn profile should be 100% complete. LinkedIn groups are a particularly useful avenue to quickly improve the quality and quantity of traffic to your own LinkedIn profile.
There is so much to LinkedIn that this particular aspect is only scratching the surface, but for c-level level job seekers it can prove to be a very useful strategy indeed, and one that you can put into action immediately. Doing so will result in increased visits to your profile, and with your follow up, increased opportunities coming your way.
Leveraging Groups to enhance your Personal Brand
Many CEO's, MD's, FD's, VP's, CFO's and other c-suite executives have taken a careful and measured approach to their career, so you might be extremely cautious when it comes to self-promotion of any sort. I understand this completely, so what I'm advocating is a systematized method for joining the "right" groups, and then starting to "dip your toe in" the waters of participation within those groups. Participation is key to getting noticed, plus at the time of writing (remember, LinkedIn likes to change things) LinkedIn actively rewards you in terms of your search rankings based on participation levels, so by getting more involved you'll reap the rewards!
When you find a group that appeals to you, check the group statistics to discover information about the group members. On every group there is an 'i' (information & settings) – see Image 1 below to the top right hand side.
Click on that i and you will see a black panel with blue/white text. Under the About heading click on group statistics.

You will then see a graphical display & headings for Summary, Demographics, Growth, Activity (Image 2 below).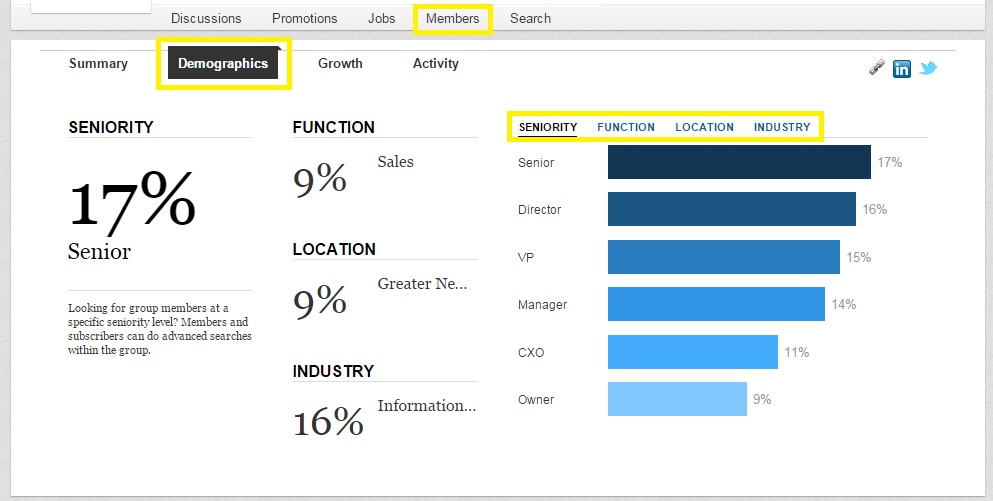 I suggest you have a look around at these various stats, have a play, and see if the membership is aligned with what you're looking for – Demographics is a good one to begin with, which you will then see it gives you access to further data: Seniority, Function, Location, Industry. So, I think you'll see there's a bit of research you can do to establish whether a group is likely to be potentially interesting or appropriate before you jump in.
The next step would be to observe what the interactions are like in the group. Who are the movers and shakers? Is it a "spammy" type of group? (Wait, before you click 'Leave group' immediately!… There's a caveat that there still may be useful contacts in that group – look under the members tab (highlighted in Image 2), and use it to search/connect with interesting looking recruiters or peers). Remember, if you decide that a particular group is full of spam and therefore not worthy, you're probably not alone in that thought, i.e. there could well be useful people to connect with who just haven't left the group.
On the other hand, if it seems like a good group for you to be involved in, start by clicking "like" on one or two postings of interest, then progress to leaving an answer or two to a suitable post (always ask a question, which is likely to attract a response as well as more interest in you as an individual = visits to your profile).
The final step here would be to post an article of interest (you can also link to it), or open with a question of potential interest to peers, or other senior professionals. Do you notice we're not talking just about recruiters here; peers can be incredibly useful allies in your job search. Peer connections are powerful.
Now imagine this new activity replicated across a number of groups, and you'll have a lot more curious people visiting your profile. Yes they may not all be useful (some kissing of frogs is normal), but we're looking at building your profile views and general visibility across LinkedIn.
These activities are the new networking, the replacement for the breakfast event schmoozing, which although sometimes still relevant can often be a major time waster.
Become a Publisher
The LinkedIn publishing option is an excellent feature for generating contacts and conversations.
Here are three tips for making effective use of the publishing platform; when publishing an article:
Have an interesting headline which will provoke curiosity
Use an image. Images look great on the LinkedIn home page and will attract more views
Use a 'call to action' of some description – e.g., "If you like this article or found it of use, please share it among your networks".
Can you see how this might generate interest in you? Even if you don't want to pursue this route, then connecting with potentially useful 2nd+ degree connections via the groups with a view to discussing potential roles, or simply to network, is a must.
What to Do When Your Profile Gets Viewed
When your profile starts to get increased visits (particularly from a recruiter if you're actively job seeking) then assuming the visits are in the main relevant people, please make immediate contact with them. How do you know what to say to open a conversation? Well, if it's a recruiter it's easier of course, as you can start with a, "Hi, I noticed you viewed my profile. Is there a role you might be working on that we could have a quick chat about?" This follow up is fundamental, and will set you apart from the majority of senior level job candidates. Follow up, nurture relationships, try to arrange conversations if relevant, track, rinse, repeat.
Proactivity is key
This is important. You have now learned a system for attracting more visits to your profile, so I urge you to record what you've done on a simple spread sheet / CRM system, and schedule follow ups on a regular basis. The steps may seem simple, but results won't necessarily be instantaneous. Give it at least a month of regular input to the groups (an hour a day minimum), but you should start to see results before then. There's no quick fix with this, although you can start to see dramatic results in a relatively short time.
Next Steps
Allocate sufficient time to these activities. I suggest a couple of hours a week minimum, but this activity is scalable, so spend more time and you'll get faster results.
Reading about it here is one thing, but consistent action is required in order to achieve the outcome you want with this, which is driving more (relevant) traffic to your LinkedIn profile page. From there nurturing conversations and relationships is the next step toward your ideal next role.
If you'd like further advice about social media networking strategies, or would just like to connect, reach out to me on LinkedIn.
UPDATE: LinkedIn have renamed the Member tab to 'About'. Just click on that to go through to the list of members.