Twitter? For an executive job search?
Why should senior level candidates bother with Twitter at all?
I took some convincing initially too, but the statistics speak for themselves.
According to Jobvite's 2014 Social Recruiting Survey, an incredible 73% of recruiters have hired a candidate through social media.
And more senior executives and recruiters use Twitter than you might think.
52% of recruiters use Twitter. 39% are tweeting job opportunities while 15% of recruiters have already hired someone through Twitter.
What's more, sourcing candidates via social media is proving so successful that 73% of recruiters plan to invest more in social recruiting.
Many people haven't cottoned on to what a valuable job search tool Twitter is and that gives you an edge.
You'll find Twitter a useful source of industry news and market intelligence. You'll uncover job opportunities through the tweets of those you follow. You might even discover the challenges facing your target companies – hence, you'll be more prepared for interviews.
So what exactly is Twitter? It's an online social networking service that enables users to send and read short 140-character messages called "tweets". Twitter differs to many other social media platforms because you can talk to almost anyone; you don't need to send a connect request and hope they approve it beforehand. It's easy to monitor and become involved in conversations that interest you. It's a place where you can connect both professionally and personally; you can be more 'you' on Twitter than you can on LinkedIn.
One more thing: 8 million applicants have found a job through Twitter.
Are you ready to maximize your job search on Twitter now?
Here's three proven ways to get yourself noticed.
Establishing your personal brand
First things first: personal branding is essential. This helps the key players in your executive job search to find you and it determines whether people want to follow you. People will want to know what value you will provide. Begin building your brand with these simple tips:
Pick an appropriate username
When you sign up, you'll be asked to choose a username. Choose wisely. This will be your Twitter handle, publicly visible (e.g. @MrSeniorExec). You can change this as many times as you like but it's a key element to your personal brand so make sure it's appropriate. You want to create the right impression. For consistency, you might consider using the same username as on your LinkedIn profile (e.g. www.LinkedIn.com/in/MrSeniorExec).
Post a professional profile photo
Next, upload a profile photo that represents you genuinely and would be well received by recruiters, headhunters and employers/organisations. Don't stick with the default image. People want to see you; it's the first stage to making a connection. I recommend using the same professional head shot you have on your LinkedIn profile so you're quickly recognisable.
Be strategic about your bio
Your bio is the single most important way to attract a recruiter's attention. Your Twitter bio is searchable and people will read this and decide whether the content you share will be valuable and if you are worthy of being 'followed'. You only get 160 characters; you have to make them count. In this short space you might want to include your role and the company you work for; your most important skills (for your next role); followed by a personal hobby or passion. Carefully consider the keywords you use and tailor to your audience (the executive headhunters and recruiters you aim to attract). Think: "what would a recruiter be searching for?" and "what makes me stand out?" Want to make it really easy to be found? Include 'seeking new role' in your bio.
Get LinkedIn
See that space for a website link underneath your bio? Use it. Add your LinkedIn profile URL here. Your Twitter account is used to make connections and generate interest in yourself. LinkedIn will tell your professional story.
Personalise your header
It's up to you whether you take advantage of the header photo. I'd suggest using it to showcase your personality and what's important to you. Perhaps you have a photo of yourself delivering a speech… or surfing… or a photo of your favourite place. Make it intriguing. (Note: If you are comfortable editing images, it's a nice touch to add your contact details to your header photo. Canva is a great tool for this).
Finding the key players in your executive job search
There are three types of people you want to connect with on Twitter:
Executive level recruiters and headhunters in your industry/geographical area
Your aim is to get their attention. You find them. You follow them. You start conversations. Suddenly, you're on their radar. Twitter successfully breaks down barriers in the candidate/recruiter relationship.
Companies you'd like to work for and their existing employees
I'm sure you've made it your business to know all about the hidden jobs market: up to 80% of roles are unadvertised and recruiters deal with just a small proportion of these. Many roles are filled through employee referrals and that brings us back to Twitter. Your aim is to connect and engage with the people that can help you to access these roles.
Other senior executives in your industry
Why? Because of the power of peer to peer networking! People love to give advice. They like to help others. How many recruiter/headhunter and industry contacts do you have? Now watch your network multiply with every senior executive you connect with.
How do we find these key players?
A simple search!
You'll see a search box in the top right hand corner. Enter your keywords and you'll be taken to a page of results (see image). Now, take a look at the menu on the left. You can filter your search by people and that will show you a list of accounts related to the keywords you typed.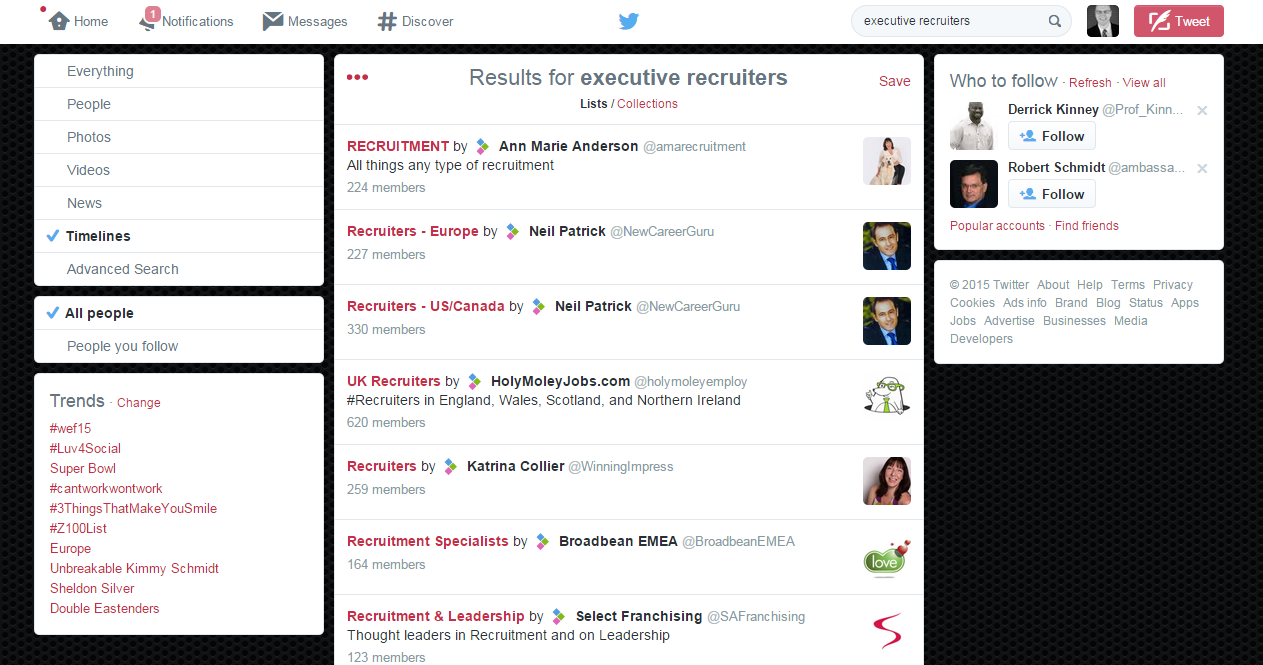 Alternatively, you can filter by timelines and this will display a series of Twitter lists relevant to your search, as shown above.
Twitter lists are by far my favourite feature! Many people will create lists that are publicly visible and this shows you a number of relevant accounts to follow all in one place. Basically, someone else has done all the research for you.
Follow the conversation…
Another great way to find accounts to follow is to search for relevant hashtags.
A hashtag is simply a phrase or keyword that is preceded by a pound (#) symbol and used by the micro-blogging community to create a thread of conversations around a specific theme or topic, such as #ExecutiveJobSearch.
They are used to categorise topics and promote engagement. Clicking on one will lead you to a thread of most recent users that have included that specific hashtag in their posts; linking you to an online community.
Consider which hashtags your industry, recruiters, headhunters and companies might be using on Twitter. What do you see other people using?
Here's a few of our suggestions:
#ExecutiveJobSearch #ExecutiveCareer #JobSearch #ExecutiveSearch #ExecutiveRecruiters
#ExecCareer #JobHuntChat #Hrtrends #tchat #JobChat #Leadership #CEO #CFO #FinanceDirector
OK, so you're finding and following people on Twitter. Great! Now you need to make sure you're providing value (remember the networking rule of thumb: Give value to receive value) and helping others to find you. Here's how you'll achieve this:
Sharing quality content
Here's the best part: you get to show a little personality online! This is a chance to show you're a good fit for an organisation. Recruiters, headhunters and hiring managers will most likely find you through the content that you post.
Demonstrate your values and passions through tweeting relevant content. Use Twitter to share industry news which shows recruiters that you are on top of what's going on in your field. Provide value by sharing your thoughts about a topic. Ask questions. Answer questions. Show passion for what you do. Recruiters want to see your dedication and enthusiasm as well as your knowledge and experience. Publish your own posts on LinkedIn and tweet them, but be mindful to share instead of sell.
Let your personality shine through; share a mix of work and personal tweets.
Catch a striking sunrise on your morning run?
Read a useful business article?
Took your daughter to a Taylor Swift concert because you're The. Best. Dad. Ever?
Tweet it all. Share photos, links, text, videos. Just keep it appropriate –I'm talking both content and frequency of tweets. Use proper grammar. We might be squeezing content into 140 characters but that's no excuse for text speak.
It's all about that first impression.
Head straight to Twitter to sign up and start tweeting now. Let me know how you get on. You'll find us at @ExecConnexions. (Follow us for more executive career insights)
Once you've created your new Twitter account, find out which Twitter tools you need to streamline your executive job search here.
What questions or Twitter tips do you have? Post them in the comments below…